Irv Lee - Higherplane Aviation Training ltd
Mentoring the Private Pilot flying in the UK, PPL/NPPL Testing, Renewals & Validations, PPL Masterclasses, Radio Training & Testing, South African Vacation & Licensing advice, Consultancy and much more besides . . . . .

Last Update of this page: December 2020 but subpages will be updated more than this one!

NEW: Radio Training Available ONLINE - see tag on left.
UK Flying and Training
Currently a flight instructor / CAA Approved flight examiner available at any airfield/airstrip by invitation. Specialising in mentoring qualified private pilots in the UK, where-ever they originally trained.

Living on the central South Coast, I work mostly with Phoenix Aviation, but also support Hampshire Aero Club plus individual residents, all at "Solent Airport at Daedalus", which you might not recognise as a name, but it is (apparently) the official name for Lee on Solent airfield (EGHF).
Trained Abroad? Introduction to the UK lessons are another speciality - you probably have a number of questions, in fact, there are questions you don't realise you should ask! Even if you plan to fly at another airfield nearer your home, there's a huge difference between turning up at the rental organisation there never having flown in the UK and not even knowing the right terms, and turning up with some interesting UK flights already in your log book, and already 'talking the talk'. NEW: Perfect for the foreign trained pilot, the Zoom radio class - just 4 separate hours, covers UK radio and UK airspace entities.

Trained abroad, or in the UK, decades ago, months ago, all hobby pilots enjoy the PPL Masterclasses - see the tag on the left. A whole weatherproof day, enjoyable and stress free, with like minded pilots, clearing out the confusions as well as improving knowledge.
Advert: NPPL or PPL, the pre flying tips are the same, and lots of confusions are sorted out with a Pre Preflight Checklist, the ideal safety addition to your flight bag. It also solves a big problem for friends/relatives who never know what to get you as a present. Get them to click on the link or the tag on the left for details and purchase. Orders usually delivered in under 2 working days, often next day if timings work out.

---
Discount code for Pooleys Online http://www.pooleys.com/:
Use "irvlee" in the "promotional code" discount field during checkout for prices to be recalculated downwards. For items over £100, contact me to see if extra discount available.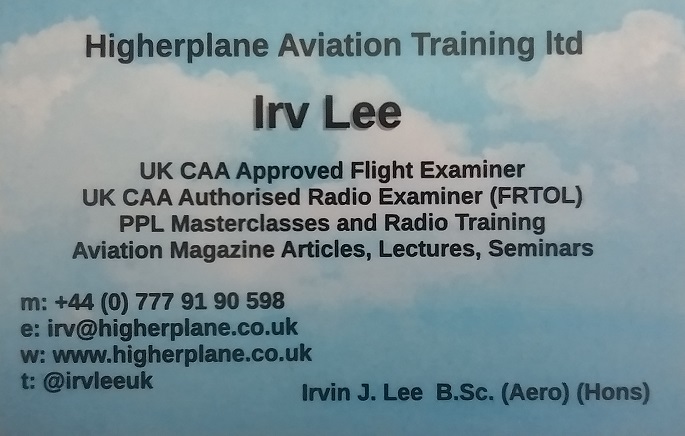 ---

Higherplane Aviation Training Limited
Registered Engand & Wales Company No. 04339387