Irv Lee - Higherplane Aviation Training ltd
Mentoring the Private Pilot flying in the UK, Licence and Radio Testing, Renewals & Validations, PPL Masterclasses, Radio Training & Testing, South African Vacation & Licensing advice, Consultancy and much more besides . . . . .

Last Update of this page: June 2023 but subpages will be updated more than this one!

NEW: Radio: Training and practice tests available via Zoom. Whole course on Zoom in only three 90 minute session, ALSO practice FRTOL tests online for those whose studies are complete- see tag on left for detail, dates, and comments.
---
Welcome to Irv Lee's Home Page, mentoring the U.K. general aviation pilot
A UK Flight Examiner, a prolific aviation writer with many hundreds of major articles published in UK and South African aviation magazines, a visiting lecturer at a leading UK university, winner of AOPA UK's national Safety Award, part of the UK's General Aviation Safety Council 2006-2017, the pilot who designed and ran FlyOnTrack for 11 years, a site dedicated to reducing unauthorised infringements of UK airspace, and a personally invited member of the Civil Aviation Authority's (CAA) central core team, headed by the Royal Air Force, dedicated to deliver UK aviation's contribution to a safe and secure 2012 Olympics, and working on projects with both NATS (National Air Traffic Services) and the CAA to communicate their key safety messages to General Aviation pilots and instructors, and the successful driver behind the initial adoption of 'Listening Squawks' which have now spread across the UK and into Eire, Italy and Germany. An invited working member of the Skydemon team at various Aero-Expos in Germany, France, and Czechia since 2014.

Whether you are here for the best selling DVD "Rust Remover for Pilots" (60 second promo here), the whole day PPL Masterclasses (a qualifying item within AOPA's and LAA's skill enhancement 'PROUD' initiatives), UK flying or the very popular radio licence and airspace Zoom classes and subsequent tests, aviation consultancy, UK CAA licensing advice, S.A. expertise, the Biennial Check Menu or the well known "Frequently Asked Questions" page, the link you require should be on the left. (Or, if you simply need 5% discount at Pooleys Online shop, see the discount code at the bottom of this page)
---
Advert: PPL, LAPL, NPPL, the pre flying tips are the same, and lots of confusions are sorted out with a Pre Preflight Checklist, the ideal safety addition to your flight bag. It also solves a big problem for friends/relatives who never know what to get you as a present. Get them to click on the link or the tag on the left for details and purchase. Orders usually delivered in under 2 working days, often next day if timings work out.

---
Discount code for Pooleys Online http://www.pooleys.com/:
Use "irvlee" in the "promotional code" discount field during checkout for prices to be recalculated downwards. For items over £100, contact me to see if extra discount available.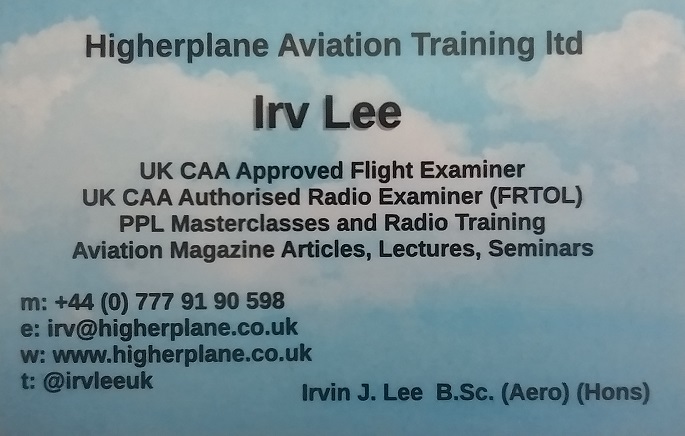 ---

Higherplane Aviation Training Limited
Registered Engand & Wales Company No. 04339387