Irv Lee - Higherplane Aviation Training ltd
Mentoring the Private Pilot flying in the UK, Licence or Radio Testing, Renewals & Validations, PPL Masterclasses, Radio Training & Testing, South African Vacation & Licensing advice, Consultancy and much more besides . . . . .

Last Update of this page: August 2021 but subpages will be updated more than this one!

NEW: Radio Training Available ONLINE - see tag on left.
Irv Lee

Originally from Yorkshire, now resident in Old Portsmouth after many years in Romsey, Hampshire, UK, and often flying from what was HMS Daedalus, often called Lee on Solent. Educated Leeds Grammar School and Bristol University (B.Sc.(Hons) in Aeronautical Engineering).
Career Summary
There was an initial career of a quarter of a century in the I.T. world with IBM UK and IBM France, including European application development, world wide technical education, I.T. new generation cutover management, and six years as an IBM Corporate Auditor (Business Use of I.T.). The first 15 years of full time I.T. was followed by a 10 year dual career developing the aviation side both practically and as an author, starting the new Millenium with an 100% cutover to Flying Instruction, Examinations & Pilot Flight Tests and radio licence testing.
Writing articles for aviation magazines (publications in the aviation press in both the UK and South Africa total many hundred of articles since the late 1990s), creating and hosting the unique and popular all day PPL Masterclass Seminars, and supporting CAA, NATS and GASCo safety initiatives also filled a lot of time. A lasting and expanding legacy of this work was pitching his idea of the concept of "Listening Squawks" (Frequency Monitoring Codes") as a means of mitigating infringement effects to the NATS National Infringement Group (NIG). The idea appealed to Manchester ATC, who despite opposition from all other units, appraoched their local user group later that week for support, and started a trial within a couple of weeks, notam'ing one of their existing squawk codes for such use. Within months, the Manchester trial was so successful that the other doubting UK ATC units came rapidly on board, and the concept has now spread to Eire and Germany.
Awarded the national Safety Award by AOPA(UK) in 2008. A member of staff teaching and supervising cadets of 1391 (Romsey) Sqn Air Training Corps 1989-2009 led to a Test Valley Community Service Award.
More recently, for over ten years, a visiting lecturer for Meteorology at Brunel University, Middlesex, writing and presenting a module for their M.Sc/M.Eng., also used as an option on their aeronautical engineering first degree.
Currently a flight instructor / examiner / radio examiner and host of the much enjoyed PPL Masterclass whole day seminars, and Zoom online pilot radio classes.
Personal Licences / Ratings

PPL (A) Channel Islands Aero Club (Jersey) as a CCF cadet on an RAF Flying Scholarship.

PPL (A) RAF Day VFR qualification in De Havilland Chipmunks, Bristol UAS, RAF Filton.

Night Rating (Southampton), Multi Rating (Bournemouth), IMC Rating (Bournemouth).

Basic Commercial Pilot Licence 1992 (Bournemouth), Assistant Flying Instructor (AFI) 1993 (Chichester Goodwood), Qualified Flying Instructor (QFI) Upgrade 1995 (Compton Abbas). Full Commercial Pilot Licence (CPL) 1996 (UK), NPPL, JAA/EASA/CAA PPL/IMC/IR(R) Flight Examiner 2003 (Bournemouth).

Validations and Renewals: Flight Examiner for PPL, NPPL, SSEA, SEP and IMC (IR(Restricted))

FRTOL (Radio) Examiner 2004 for VHF and HF
---
---
Advert:
NPPL or PPL, the pre flying tips are the same, and lots of confusions are sorted out with a Pre Preflight Checklist, the ideal safety addition to your flight bag. It also solves a big problem for friends/relatives who never know what to get you as a present. Get them to click on the link or the tag on the left for details and purchase. Orders usually delivered in under 2 working days, often next day if timings work out.

---
Discount code for Pooleys Online http://www.pooleys.com/:
Use "irvlee" in the "promotional code" discount field during checkout for prices to be recalculated downwards. For items over £100, contact me to see if extra discount available.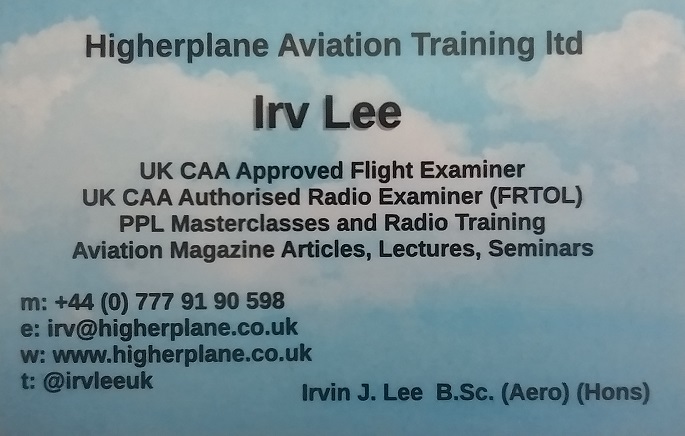 ---

Higherplane Aviation Training Limited
Registered Engand & Wales Company No. 04339387